The Junior League of Odessa's annual Merry Marketplace will be held November 3rd – 6th, 2022 at the Ector County Coliseum – 4201 Andrews Highway. More information coming soon!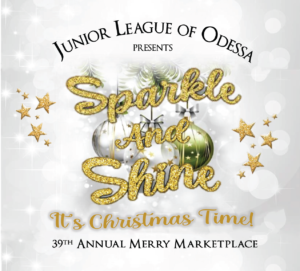 MERCHANTS
Be a part of Merry Marketplace 2022! Download the application below and return completed applications to merchants@jlodessa.org.
Please call 915.242.7915 or email merchants@jlodessa.org with any questions.
Application: 2022 Merry Marketplace Merchant Application
---
SCHEDULE OF EVENTS
Premier Shopping Preview Party
Thursday, November 3rd
Premier Shopping Party 6-9 pm
Ticket price: $100 / person
Cocktail attire, Open bar (beer & wine)
Sponsor: All American Chevrolet
Ladies Luncheon and Fashion Show
Friday, November 4th
Ladies Champagne Luncheon & Style Show 9am – 1pm
Table purchases available, email tickets@jlodessa.org
Ticket price: $100 / person
Champagne Sponsor: Carpet Tech
Ladies lunch and Style show sponsor: Market Street
Breakfast with Santa
Saturday, November 5th
Breakfast with Santa 9am-12pm
Sponsor: Jet Specialty
Ticket price: $5/ ticket
Merry Marketplace General Shopping 
Friday, November 4th – 11am -7 pm
Saturday, November 5th – 9am-6pm
Sunday, November 6th – 12p – 5pm
GA Shopping Ticket: $10/ticket, $10 cart/wagon/stroller
3 Day Pass GA Shopping: $25/ticket, $25 cart/wagon/stroller
---
TICKETS
Tickets to all events will be available to purchase Friday, August 19, 2022 at 10AM CDT. Purchase Tickets Here or scan the QR code below from your mobile device.