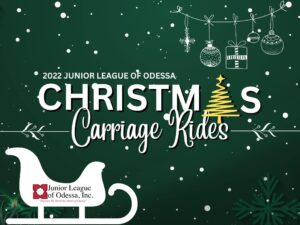 Enjoy a festive ride in a horse drawn carriage through the beautifully lit Emerald Forrest subdivision! Reserve your carriage for you and your loved ones today!
Dates:
December 7th – 10th
December 12th – 14th
Ticket Information:
$150 per 4-Person Private Carriage
$200 per 6-Person Private Carriage
$375 per 12-Person Private Carriage
For more details and to purchase tickets, click here. 
All proceeds support the Junior League of Odessa's mission to raise funds and private volunteers for our local West Texas community.