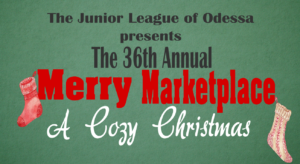 Let's Get Cozy!
This year, we celebrate our 36th annual Merry Marketplace, A Cozy Christmas! Each year, locals and individuals from surrounding communities flock to the Coliseum for the weekend-long shopping extravaganza known as Merry Marketplace. This entire event, made possible only by the small band of women who put in countless hours of planning, is the Junior League of Odessa's largest fundraiser.
And what about those funds? Where do they go? All funds raised through Merry Marketplace including entry fees are put placed back into the community through support of local projects and community assistance funds. 
Since the organization began in 1948, the Junior League of Odessa has raised and returned more than 6.5 million dollars back into the community. Some of the projects the league has helped fund include Food 2 Kids, the Crisis Center Angel House, and its most recent project, the Junior League Jurassic Sprayground.
Schedule of Events
November 1 – 4 
General admission shopping tickets – $10
Strollers – $10
Shopping Hours – 
Friday, November 2nd – 11 AM – 7 PM
Saturday, November 3rd – 9 AM – 6 PM
Sunday, November 4th – 12 PM – 5 PM
Special Events-
Thursday, November 1st – Shopping & Casino Royale $75 a ticket
          Exclusive Sponsor Shopping Hour – 6 – 7 PM
          Shopping & Casino Games – 7 – 11 pm (Shopping stops at 8:30 pm)
Friday, November 2nd – Ladies Champagne Brunch –
          Shopping & Champagne 9 AM – 11 AM
          Brunch & Speaker –  11 AM – 1 PM
          $75 per ticket
Saturday, November 3rd – Breakfast with Santa (Barn G) — 9 AM – 12 PM